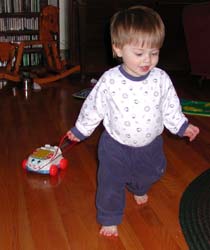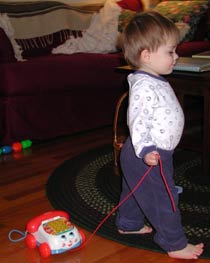 March 26, 2001 - Monday
Over the last week or so Harry has achieved the adorable toddler phase of dragging and pulling objects. He has a little one-octave, plastic xylophone with wheels on one end and a handle on the other that he drags, but this little phone on a string, with the eyes that move up and down as the wheels turn is his mother's favorite. Of course, his dragging long ribbons around that the cat pounces on, drawing great cheer from Harry, is also right up there.

Nothing can really be determined from Harry's first day at the new daycare. It was all a novelty to him, with new toys and fascinations. He didn't sleep very long - just a 40 minute nap - and was likely in constant amazement the whole day, except toward the end of the day when he got a little tired.


Comments, opinions?