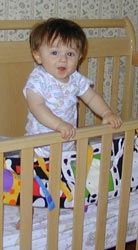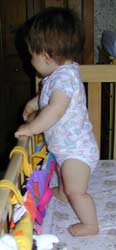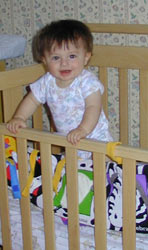 July 20, 2000 - Thursday
Harry amazed us today. Maybe it's because our child progress book is still packed away from the move, but Harry did something I wouldn't have expected for several more months. He stood up on his own.

Harry's mother had put him down in his crib to tend to a couple other things in his room and Harry grabbed the side of the crib and lifted himself to a standing position. I actually missed it the first time, but Harry obliged twice more, happily posing once again for the camera as if he truly understood the significance of his accomplishment. The third time he must have stood there for more than a minute before needing to rest his legs.

This just seemed so sudden. It was just one week ago that Harry didn't seem to realize his legs could be use for anything other than random kicking and flailing with excitement. But, since his first crawl, he's been aggressively developing his lower body.

And, now, seemingly out of nowhere, he's standing. We immediately lowered the mattress in his crib.


Comments, opinions?