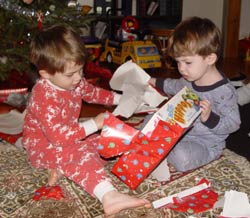 December 25, 2003 - Thursday
The expressions on Harry and Jeremy's faces in the picture on the left hint at how each approached presents this year. Harry, now four, ripped into them with aplomb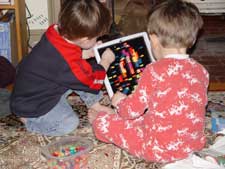 in the way one would probably expect from a little kid. His excitement was thrilling to watch, if somewhat chaotic. Jeremy, on the other hand, was still at last year's pace, excited less in the opening on the presents than the presents themselves once they were open. Each present was its own marvel and something to be immediately tried and tested. That's not to say that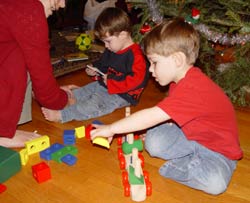 Harry doesn't appreciate the presents anymore, because he certainly does. He's just old enough to realize that there will be time for playing after they are all open.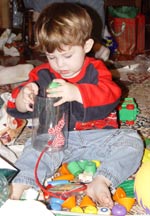 Admittedly, Harry's way is a little less endearing, but, with guests coming to our house this year, perhaps more efficient. Indeed, when we opened presents a second time in the afternoon with cousins and grandparents, Jeremy was in his own little world in the middle of the flurry, slowly opening and exploring each gift long after everyone else was finished. Harry played, too, both with his own presents and with some of Jeremy's, as with this train. The Hungry Hungry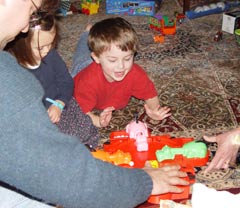 Hippos was for both Jeremy and Harry, although Harry seemed to take to it more enthusiastically and aggressively. After all, it is a louder game for a bouncing little boy.


Comments, Opinions?