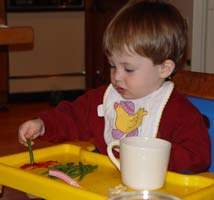 May 7, 2003 - Wednesday
Jeremy's mother read in Parenting that no child, no matter how much they insist, will ever finish their supper after having dessert, even just a little dessert. No child would ever go back to beans or peas after something sweet. It's certainly a logical theory.

But, here's the one. Jeremy does it regularly. In this particular picture, Jeremy has not had ice cream or anything very sweet, but he has had several pieces of naturally sweet dried fruit.

'Ah, but there are still those wonderful beans left to eat and a little ketchup for dipping. Time for another course' Jeremy seems to be thinking. Amazingly, this sort of thing is not a rare occurrence.


Comments, Opinions?