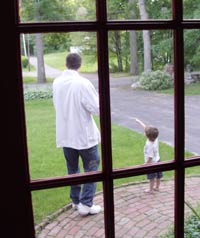 June 17, 2003 - Tuesday
This is what we do to door-to-door solicitors: we let Harry loose. Actually, this wasn't a planned maneuver on our part, but it was awfully funny to watch. This particular nice young man was from a regional nonprofit organization that tends to come around each year looking for a donation. It's a worthwhile cause, in my opinion, and we've given money in the past, even though the idea of door-to-door soliciting isn't all that becoming. Last year I sat out on these steps for the better part of 15 minutes with two eager young adults from the same organization watching Harry interrupt them at every turn and completely foil their prepared spiel. They had to be good sports lest they loose my possible (indeed, eventual) donation and it was a great early evening distraction for Harry (and me).

This time, as soon as I answered the door Harry went barging out and immediately launched into a recitation for this man about the freight trains we saw over the weekend, the woodpecker in the tree (notice Harry pointing), golf, bees, and anything else that entered his agile, young mind. I told the man I'd be right back and went back inside, intending simply to tell Harry's mother who it was at the door, but once inside and remembering last year's fun, I realized that Harry was in complete control of the situation and I lingered. And I lingered more. His mother looked and laughed. I got the camera and took this picture. This door-to-door solicitor was stuck. He couldn't just leave. He had to wait and entertain our boy. Indeed, he was now serving our agenda and working for us. I eventually went out and sat with him for another 5-10 minutes while Harry brought various toys out of the garage to show off. It turned out that this poor guy had been on his feet for 2.5 hours and would be for another 2 before his night was ended. He seemed to enjoy the rest. It was the least I could do. And, he earned his donation.


Comments, Opinions?