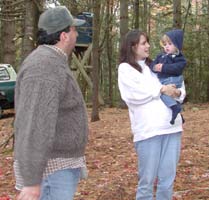 Funny Jack was one of Harry's favorite new friends from the weekend. His name is fun for Harry to say, too.






October 8, 2001 - Monday
We left the cabin today a little before 2:30pm after saying our goodbyes and Harry almost immediately fell asleep in the car. It was about an hour after he usually takes a nap so he would have been ready, but I think it has also been a tiring weekend full of constant distraction for our little boy. And while he didn't sleep the whole way home, the 2 plus hour trip turned into a 2 and a half hour plus trip due to traffic, when he did wake up he just sat there in his car seat staring straight ahead like he was in some kind of trance. I think Harry did famously this weekend, all things considered, but he was probably worn out from the activity just like his parents.

Nonetheless, Harry surprised me near the end of our voyage home. After sitting in his car seat for two and a half hours Harry had the wherewithal to realize where we were when we had arrived back in our home town well before we reached home. In fact, as we drove up Main St he called out for us to stop at the library. He barely sits high enough in the seat to see out the window, yet he knew exactly where we were .


Comments, opinions?