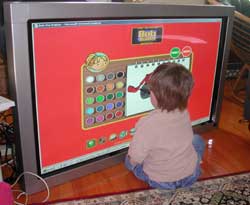 December 8, 2002 - Sunday
Does Harry have a great dad or what? Well, at least his dad has a pretty good job that sometimes yields unexpected benefits.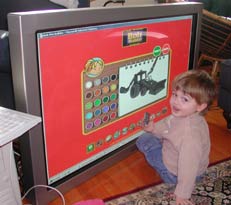 I've been trying to teach Harry to use the cursor on my notebook computer so he can play the "Bob the Builder painting game" by himself. But, Harry gets frustrated, or embarrassed, quickly and has yet to give it a real effort, instead insisting that I do it for him. That means I move the cursor and he does the clicking and that can be a little tedious, especially when Harry pushes my hand away from the "clickers" announcing that he wants to do that himself. With this touch screen panel, which I do not get to keep for more than a few days, Harry's on his own and has both parts down with no problem.


Comments, Opinions?