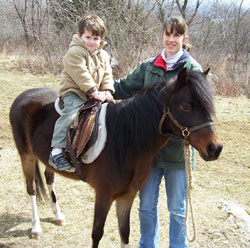 March 26, 2006 - Sunday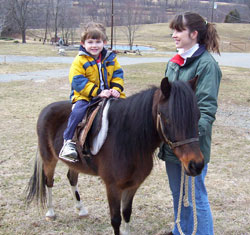 Last night we all had a sleepover at Aunt Alison's farm. We actually came down yesterday afternoon in time for the boys to look at the horses, but it wasn't until today that they actually wanted to ride the little pony, Pegasus. I would have thought that with Jeremy recent interest in horses and past "experiences" riding a pony, that he would have been more anxious to ride yesterday. But, he and Harry seemed content to fool around in the barn for a while. I couldn't say whether Jeremy got nervous or not, although surely Harry, who is much less likely to try something new without encouragement, didn't inspire him. They both eventually got on for a little ride with mommy leading them around, and I do think Jeremy enjoyed it, but neither one stayed on for all that long.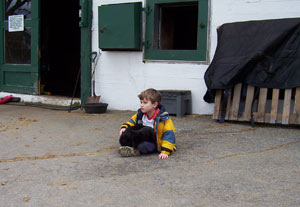 One of the most charming scenes of the day was seeing Harry sitting down by the barn with this big black barn cat on his lap. Apparently, Harry sat down because he was just tired or something and this barn cat just crawled right on his lap and stayed. I noticed it when Jeremy came inside without Harry and that was certainly after Harry had been sitting there for several minutes. I couldn't see the cat from inside the house and went out to see what he was doing and I still had time to go back inside and get the camera and Harry's coat. The cat wasn't going anywhere and Harry seemed to be delighted at the idea that he was finding a way with animals. He's been working on getting Paavo to sit with him and on his lap, but Paavo doesn't always respond so favorably. We've been telling Harry it takes a long time for an animal to trust someone, especially if that person wasn't always so gentle. Admittedly, it's been quite a while since Harry did anything aggressive to Paavo, but it's taken him a little longer to build a repertoire of postive re-enforcement.


Comments, Opinions?