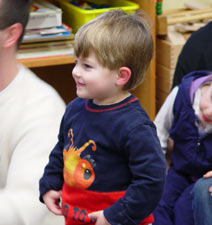 April 11, 2003 - Friday
There's a child entertainer, Mr. Mike, who's performed at Harry's Child Care Center a few times since he's been there and, somewhat strangely, Harry has become quite "concerned" about these concerts lately. I'm not sure of this, but I think Harry has seen him a few times, although it's possible that Mr. Mike has performed inside the other classrooms without Harry or Harry's class in attendance. Regardless, the last time Mr. Mike was there, perhaps a month or two ago tops, Harry was quite alarmed about being in the room. Really, it's hard for me to believe that Mr. Mike himself had anything to do with this; after all, he just sings and plays guitar like Harry's dad, but does so wearing funny hats and occasionally playing with puppets. It's more likely that Harry was, as he has been in other situations, intimidated by the crowd and seemingly close quarters the crowd of children created. Tonight, for the end of the Week of the Young Child, the Center has scheduled Mr. Mike to perform for everyone prior to a parent/child pizza party.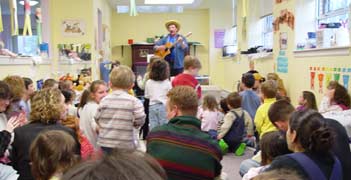 Harry has developed this kind of eerie way of coming around to doing things or accepting things that he doesn't particularly like. After complaining, crying, arguing about, or in some other way expressing his dissatisfaction about something, Harry will start saying something like "I love Mr. Mike. I want to go see Mr. Mike." That's great, of course, if our plan is to go anyway, but the transition, although most often separated by some period of time, always seems so abrupt. Most likely, I rationalize, this is the result of a three-year-old's limited ability for subtlety in phrasing. As with Mr. Mike tonight, we've typically gone through a period of trying to explain away the fear, and it's nice to think that Harry has simply come around. Of course, there have certainly been other incidences when we had to be far more direct to the point of scolding about some irrationally inappropriate reaction and I can't help but worry that Harry's reactions are somehow more knee-jerk. Fortunately, at least tonight, the turnaround seemed sincere. After mild hesitation about entering the big "mid-day" room full of kids and sitting with me and Jeremy in the back for just a little while, Harry don't his defenses and walked amid the crowd, danced, and played. Of course, he was later a little nervous about going into the crowded "Toddler 2" room where the pizzas had been lined up. He got over that, too, but ate fast and left for the quieter confines of neighboring "Toddler 1."


Comments, Opinions?