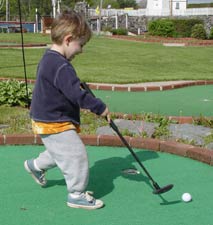 May 30, 2003 - Friday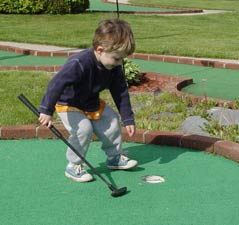 An early season visit to the bench gave Harry, Jeremy, mom, and dad almost the entire beach to ourselves. It was too cold for much water play, but Harry still seemed to love the idea of it and Jeremy still seemed a little bit tentative about it. Still, playing in the sand is a pretty sure bet for fun with little boys, at least for a while. However, an overcast afternoon begged another activity and an early season, weekday afternoon seemed to be an appropriately slow day to try an experiment I actually thought about last summer: mini-golf. Would Harry get it? Would would be able to move along through the course without losing focus? Or, would he prove to be just too young? And, what about Jeremy?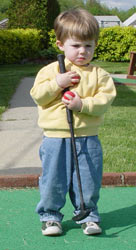 The result was fabulous, although hardly as logical as I would have expected. Harry, who's gotten much better at consistently hitting the ball with the plastic golf clubs at home and having recently seen a little golf on TV (putting being the easiest to see and most exciting part of it - it goes in the hole or it doesn't), had no trouble getting into the spirit of it. He didn't very well accept the idea that the ball needed to stop before he hit it again, and, of course, counting shots was out of the question, but focus latest the whole way around the course. In fact, Harry was manic most of the time, always the first to play, to play again while mommy and I were taking our shots, and first to run off to the next hole. And, giving up the ball at the last hole was such an appropriate trauma that the woman in the club house ended up giving Harry a ball to take home.

Actually, it was Jeremy for whom giving up the ball was the true trauma and the one to whom the woman gave the first ball. Harry just expressed genuine disappointment enough to get one, too. As for Jeremy's game, I might have thought there'd be more of it, given his gleeful (I'm not sure who likes that more: him or me) love of balls and recent interest in the plastic golf clubs at home. But, the entire way around the course he simply held tight happy as a clam to his new "ba(h)--" and club.


Comments, Opinions?