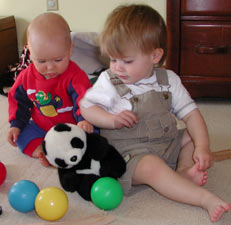 June 9, 2001 - Saturday
Harry's cousin Ben came to stay last night and spent the day today. A year ago, Aunt Jane and Uncle Kris took care of Harry while his mother and I spent a night alone at a Bed & Breakfast and this evening we will return the favor. For Harry, that meant spending some time with his cousin, Ben.

Jane, Kris, and Ben arrived last evening and stayed at our house for the night, but that was after Harry's dinner and he was off to bed almost immediately. Then, this morning, cousin Ben went with his parents on a shopping expedition and unsynchronized naps took us almost to dinnertime, so Harry didn't see Ben all that much. But, finally before and after dinner, Harry got to hang out with his cousin and show off his best playtime behavior, undoubtedly learned playing with his younger playmate, Joshua, at daycare. Harry knows how to share, and patiently waited while the younger Ben groped at objects Harry might otherwise have wanted. Harry is clearly playing "with" now.


Comments, opinions?