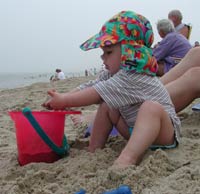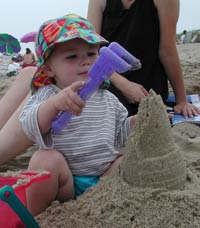 August 4, 2001 - Saturday
Every August my extended family units in a little beach community as this will be Harry's second time, though the first when he is mobile at the beach. The traffic on the way there can be terrible on summer weekends, so we planned to leave pretty early this morning. I was hoping we get away by 6:30 or so, but I guess Harry did us a favor by sleeping in a bit. His mother and me had a chance to eat breakfast and finish getting ready (we packed most of the car last night) without having to entertain or keep track of a toddler. We got away a little before 7:30am and gave Harry breakfast in the car. When we went up to the woods cabin a couple of weeks ago, we timed it so Harry slept almost the whole way in the car. This time, in order to beat the traffic, that would not be the case and I was a little worried. When he was a baby Harry took to the car pretty well, but once he started walking his tolerance for being strapped down waned. We've taken hour-long trips with him without getting him too upset, but this would be the longest car ride for Harry in some time. Fortunately, the hour and 40 minutes past without concern thanks to help from his mother's steady stream of books and toys in the back seat.

Amazingly, Harry seemed to understand where we were going. We'd been talking up the ocean and the beach for a week or two and got a few books about the beach, sand castles, and other water related topics from the library. But, I guess I would have expected that they would make Harry more interested when we got here. Yet, as we pulled off the highway at the final exit, his mother and I said something like "we're almost there" or "here we are." Harry paused for a moment, looked up to see us turning off the highway and said "ocean," like he'd been there many times before and knew exactly what it would be like. Maybe, I'm reading too much into it, but he seemed to understand what we'd been saying about going somewhere in the future and that the future was coming to pass.

We did make it down to the beach in the late afternoon for a little while and Harry had a grand time playing in the sand. He wasn't so sure about the ocean water. It was cold as usual and is something he'll need to warm to, both literally and figuratively. This evening, on the other hand, we all went to a band concert at the town square and Harry was excited about that. He'd shout "more, more" after every number, just as he did back on the 4th of July. His grandpa was playing in the band and I brought Harry around to watch him. Harry joined a group of other kids dancing wildly in front of the band for a few moments, but mostly he was more interested in studying the band and walking the front parameter of the musical circle of players.


Comments, opinions?