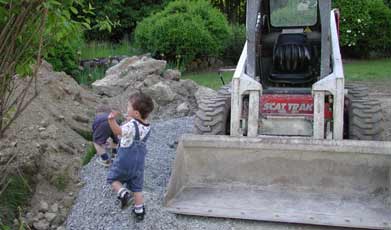 June 3, 2002 - Monday
Harry's played with Dylan before, but only a couple of times and not all that recently. Still, when we walked near Dylan's house a week ago Harry was quick to identify the occupant and a few days later while driving in the car Harry said he wanted to go play with Dylan. Is he ready to play "with" friends? We got the answer today.

Harry and I were outside in the street when Dylan's mother drove up. She initially stopped to say hello, but quickly decided to pull into our driveway and let Dylan and Harry play together for a few minutes. Amazingly, even though Dylan had a toy loader and fire truck to share, Harry was more interested in interacting with his friend. As they climbed on the rock together I could hear Harry pointing out the fascinations on nature to Dylan - caterpillars, rocks, sticks - and genuinely eliciting Dylan attention and activity. Right as Dylan's mother was starting to think about leaving, Harry asked his friend to do something fun.

"Dylan, did you want to come see the BIG mini-loader?" And with that, Harry was off toward the neighbors' back yard with Dylan not far behind. Harry has a friend!

I don't know if it's anything related, but Harry was uncharacteristically delightful during his bath and bedtime.


Comments, Opinions?