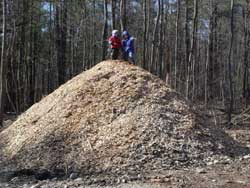 April 10, 2004 - Saturday
This is Harry and Rip atop a large pile of woodchips at the nearby construction site. I have to admit that I was a little torn about letting them climb it. In fact, I've told Harry before he couldn't, but that was while the workers were there and moving about with large equipment. I guess that's obvious enough. On a Saturday morning, though, it's a little more of a struggle between holding onto precedents and letting boys be boys. Ultimately, it's probably pretty safe, particularly with Rip's dad and me right there watching. But, it's easy to see things getting out of hand with the loose chips without supervision at some future date.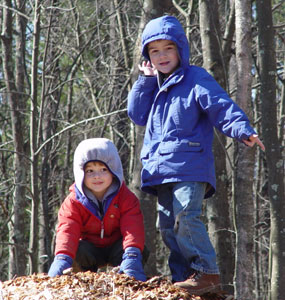 The balance, I figure, is in teaching them respect for other peoples property in the meanwhile, including piles on construction sites that may be there for a specific purpose.

After this outing to the construction site, Rip's mom and dad invited Harry and Jeremy back to the their house for an Easter egg hunt/chocolate bonanza.


Comments, Opinions?