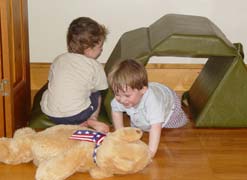 June 25, 2003 - Wednesday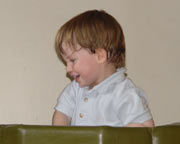 Harry's closet is one of the boys' favorite places to play (Jeremy's closet is still full of storage items. I suppose that will have to change soon). Add to that the fabulous "green thing," and in this case a hot June afternoon, and it's a sure recipe for childhood fun and good sleeping later.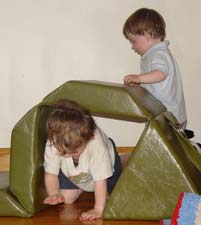 It's also one thing the boys love to do together and as much as they bang around - constantly risking the structural integrity of the closet doors, constantly on the verge of accidentally banging a head on the floor or a wall, and always teetering between elation and frustration - it is always fun to listen to while it lasts. I certainly think kids, perhaps boys especially, need to be able to bang around a little like that and the soft green thing is hardly the worst prop.