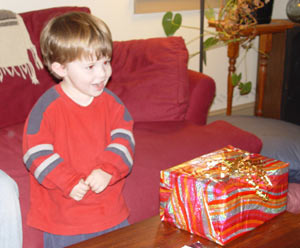 November 2, 2003 - Sunday
Jeremy has such great expressions. The pouts and frowns are the most obvious, I suppose, but he's certainly not short on happy expressions and smiles either. He tilts his head endearingly to pose a question or emphasize a response, and offers congratulatory expressions when we've figured out what he's saying. He also quite open at showing his feelings, like surprise here when presented with anearly birthday present. Grandpa John and Grandma Judy have been in the area to visit Jeremy's new cousin Andre (Aunt Lisa's new baby) and stay with us both last Monday on their way into town and last night (they watched the kids while mommy and I attended a family wedding for Aunt Sue).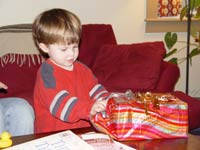 Since they left on a plane this evening, they gave Jeremy his present a day early. Amazingly, Jeremy seemed more thrilled with the idea of the present and opening it than with the new toy itself. He had fun with that, too, a car that automatically flipped and went the other direction when it hit a wall. But, maybe that's because Harry was destined to take it over quickly enough.




Comments, Opinions?