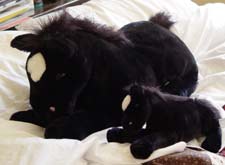 September 2, 2003 - Tuesday
We are on our to the store to get mommy's birthday present. I'm planning to get the big black stuffed horse that Harry picked out when we were there last week. (I didn't get it last week because Harry would surely have told mommy in advance of her birthday.)
Harry says without my asking, "I want to get the big black horse. Hey, maybe we could two horses. The big one could be the mommy and the little one could be the boy."
Admittedly, this idea of his fades in and out as the afternoon goes on. When we get to the store Harry's most interested in just the big one and started calling it "his" rather than a present for mommy. The little horse that had been such a nice idea in the car quickly became Jeremy's horse. Still, it was an awfully nice thought while it lasted. And, mommy liked it, too.


Comments, Opinions?