October 12, 2003 - Sunday
This is Harry at the same puddle (more or less) near the cabin that I've photographed him at each of the other two Columbus Day weekends he's been here. He actually still fits into the red Polartek tunic that he worn in the picture last year and his first year, but it is getting a little shorter on him. So, now he's wearing clothes that are a little too big and looking like a modern-day teenager.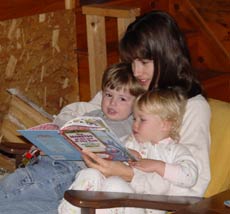 Our annual weekend at the cabin, once a retreat for couples and kegs (or at least bottles) of beer, has changed now. I suppose Harry and Jeremy are to blame, or maybe ourselves for choosing the kids route, but this is definitely a more family-oriented weekend filled with wholesome scenes like mommy reading Fortunately, this new family format works just fine our friends Mike and Roxann, who have been here almost every year for more than a decade and had their share of that beer, and their daughter Nicole. Aunt Lisa and Uncle Ben would be here, too, were it not for the imminently pending available of future cousin, Andre. Cousins Ben and Sam, who live relatively close to the cabin, unfortunately couldn't come.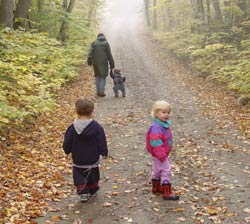 (The Monster at the End of this Book was a huge hit among the kids; Harry, who could just about remember the whole story and "read" it, and Jeremy and Nicole who wanted to hear it many times).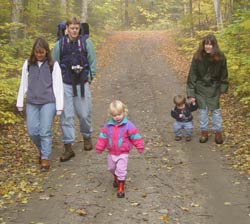 Still, things worked pretty darn well this year with just the four of us and the three kids here yesterday and and this morning. Then, after this morning walk, Uncle Jon, Aunt Betty, Uncle Rich, and Annie came and gave a hint of the old weekend atmosphere.


Comments, Opinions?