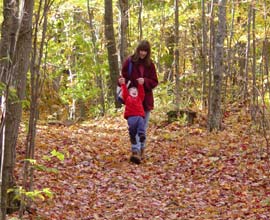 October 13, 2003 - Sunday
Before we left for home today, we took a walk up to the top of a nearby mountain. It's a little hike that typically takes something like 40 minutes each way, the first half of which is up and down and through the woods until it meets the road at the base of the mountain. The second half of the hike is up. This year, as we did last year, we took the relatively easy way and drove to the base of the mountain and hiked up with the boys from there. That walk through the woods is both good exercise and very lovely and driving to avoid it feels something like leaving a baseball game before the ninth inning. But, as parents, we have to be realistic. Carrying two boys for what would inevitably most of the 40 minutes up and then likely all of the 40 minutes back is not something we're really ready for physically. But walking with the boys is the kind of thing that when the attitude changes from the excitement of the walk and the nature to wanting to be carried, the whole mood changes. And, as any parent probably knows.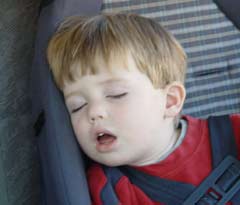 On the part we did hike, I think Harry and Jeremy did better than we really could have hoped and it had the wonderful effect of getting them nice and worn down for the near 3-hour ride home. Playing jumping games - me with Harry and mommy with Jeremy as in the picture above - helped a lot toward both causes. So did Harry running around on the rocks at the top of the mountain. Ultimately, there are times when leaving the proverbial baseball game early hardly matters.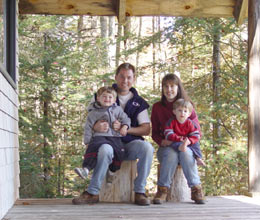 Here's a picture on the cabin porch just before we left. There's another one here...


Comments, Opinions?