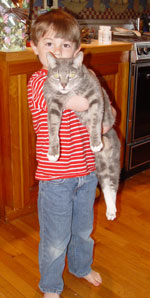 May 5, 2006 - Friday
Maybe it actually started with the rush of confidence from the favor of a barn cat, but Harry has been in a major animal appreciation mode over the past few weeks. He's been particularly friendly with Paavo and has somehow figured a way to pick up the cat like this without it turning Paavo away. He's regularly seen these days walking around the first floor of the house with Paavo in his arms.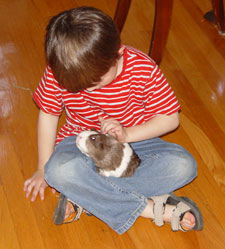 But that's not to say that he's lost interest in Spooky. He's been more interested in holding Spooky lately, too, although Spooky is less interactive and less responsive than the cat so the sessions with her are generally shorter. Still, he's very proud of Spooky and has been asking if he can take her to school for his weekly show-and-tell since before April vacation. We now have it worked out with his teacher for next Wednesday...!


Comments, Opinions?