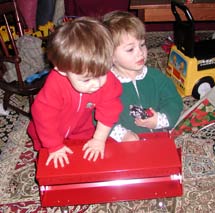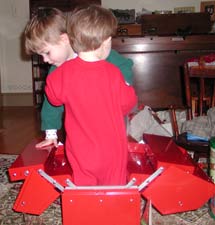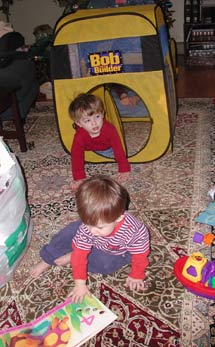 December 25, 2002 - Wednesday
I don't think Harry's quite old enough to remember this Christmas for years to come, and that's kind of too bad. It was a pretty good Christmas, complete with a big snow storm in the late afternoon and evening and Harry and Jeremy coming out to play in it just before bedtime. I suppose they probably didn't need the extra thrill to sleep well, Jeremy actually almost fell asleep in the snowy driveway, but it didn't hurt.

Harry didn't wake up this morning remembering that it was Christmas, at least he didn't rush downstairs like I remember doing. But, as soon as he saw the new pile of presents under the tree it all seem to fall into place. With childhood joy and enlightened self-interest, Harry immediately became the sharer, doling out the family stockings accompanied by somewhat fragmented, but surprisingly appropriate Santa Claus references, so we could all open presents together. Breakfast came before the bigger gifts and that was a good thing. Harry and Jeremy thoroughly enjoyed each one of their new toys along the way and that made for a fully extended morning of happy boys. Interestingly, Jeremy didn't take to the actual opening of gifts all quickly as Harry did at one year of age, but maybe that's because he has an older brother to do it for him. Relatives arrived for an afternoon Christmas reprise and that just meant more presents. This time, Harry truly helped hand out all the presents, carrying each to it intended before settling down to his own new pile.


Comments, Opinions?