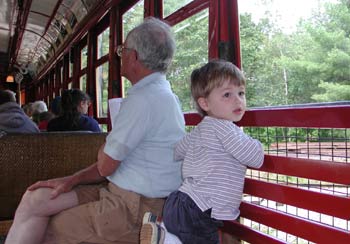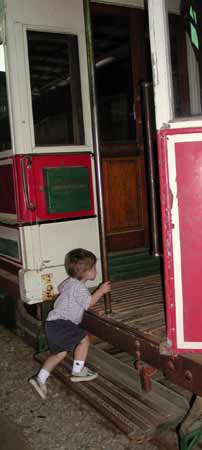 August 6, 2002 - Tuesday
I thought the trolley museum would be an enormous success and in most ways it was. Harry's grandpa and Uncle Jon were along and I thought they'd see Harry at his most excited, running around and climbing in the old train cars that have been restored, and they did. But, the visit didn't start out so well and that tempered expectations. A small tour group of some dozen people came pouring past Harry as we waited to board the initial trolley ride and that made Harry understandably nervous. He recovered just fine and enjoyed the ride. And, he was certainly full of excitement amidst a barn full of semi-restored trolley cars. However, perhaps that initial outburst of anxiety rebuffed the attention of his grandpa and uncle. Or, perhaps it's just that no one can be as enthralled with the rantings of a wild and happy two year old as a parent.

Before going to the museum I rode Harry on the bike down to the nearby railroad tracks just in time to see the passing passenger train. I thought he might think it was too loud, but he really didn't. When we got back to the house the length of the train he increased in his reports and the conductor had waved to him. I must have missed it. Tomorrow I will have to bring some pennies to the track.


Comments, Opinions?