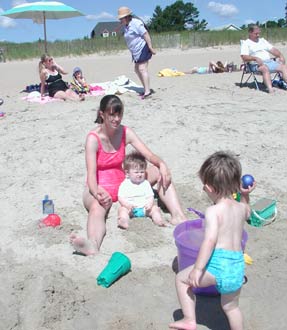 August 7, 2002 - Wednesday
Jeremy still doesn't seem so happy with the beach. The water has gotten colder than it was over the weekend and that doesn't help, but I think he's still hesitant about the salt and sand in his eyes. Here's Harry showing Jeremy the ball that he's going to put down his first "ball roll."

Speaking of firsts: Monday evening at dinner Harry had a popsicle and spent a delightfully focused 10-15 eating it. And, he's asked for one after every meal since. He's had popsicles before, so last evening instead of yet another popsicle, I made him his first ice cream cone. He seemed to like that quite a bit too, and I'm a little surprised that today he went back to requesting a popsicle rather than another ice cream cone.


Comments, Opinions?